Kali Linux 2022.2
Kali Linux is a Debian-derived Linux distribution designed for digital forensics and penetration testing. It could be the best operating system you can think of if you want to dive into cybersecurity and Ethical Hacking. If you are one of them, you might find our site helpful, so be sure to check it out. There are many ways to install Kali Linux in VMware Workstation
Kali Linux has around 600 penetration-testing programs (tools), including Armitage (a graphical cyber attack management tool), Nmap (a port scanner), Wireshark (a packet analyzer), Metasploit (penetration testing framework), etc.
In today's article, we are gonna Install Kali Linux 2022.2 using VMware Workstation.
Installation Requirements
The minimum requirements for installing Kali Linux within VMware are as follows:
Disk Space: Minimum 10GB
Architecture: i386 or amd64
RAM: Minimum 512MB
Steps to Install Kali Linux
We'll be installing Kali Linux step by step, and we suggest you follow us to prevent any errors and flaws while installing. There are some places where you have to choose the configuration that is best suited for you, and we'll let you know there. The steps to install Kali Linux on Vmware Workstation are
How to Install Kali Linux in 6 Simple Steps
Once you're ready, let's jump right in and get this new version of Kali Linux into your computer
Step 1: Download Kali Linux 2022.2 ISO Image
Head over to this site to get your ISO image downloaded
https://www.kali.org/get-kali/#kali-bare-metal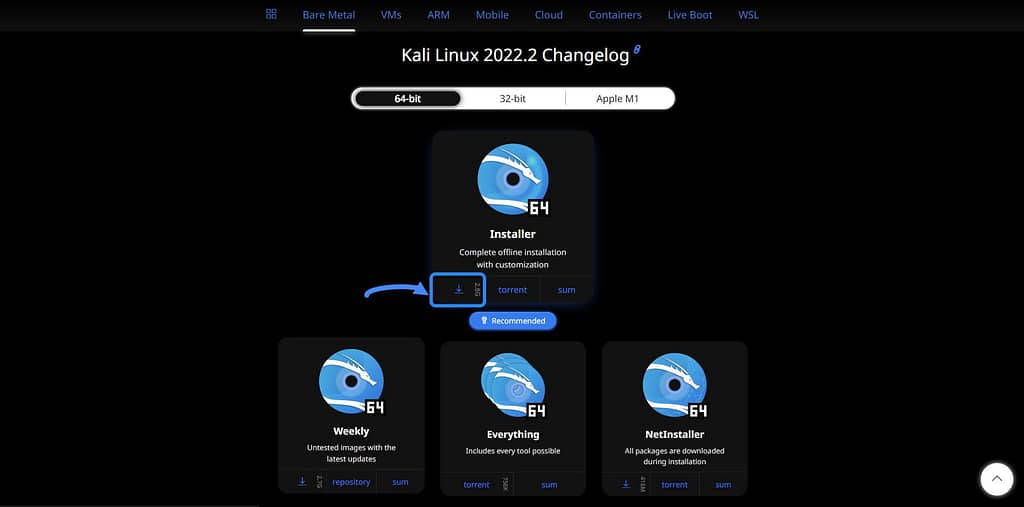 You would have to scroll down a bit until you see this. You can choose the option that is most suitable for you, but I would recommend you to download the Installer image. Click the download icon and wait till the download is complete
Now let's head over to Download VMware Workstation
Note: Download the ISO file according to your system architecture (32-bit or 64-bit) to avoid downloading the wrong version altogether
Step 2: Download VMware Workstation
Now click here to download VMware Workstation, and this is where we will be creating and installing our Kali Linux Virtual Machine. It is completely possible to use VirtualBox or any other hypervisor application and get the work done, but in this article, we will be doing it using VMware Workstation
https://vmware-workstation.informer.com/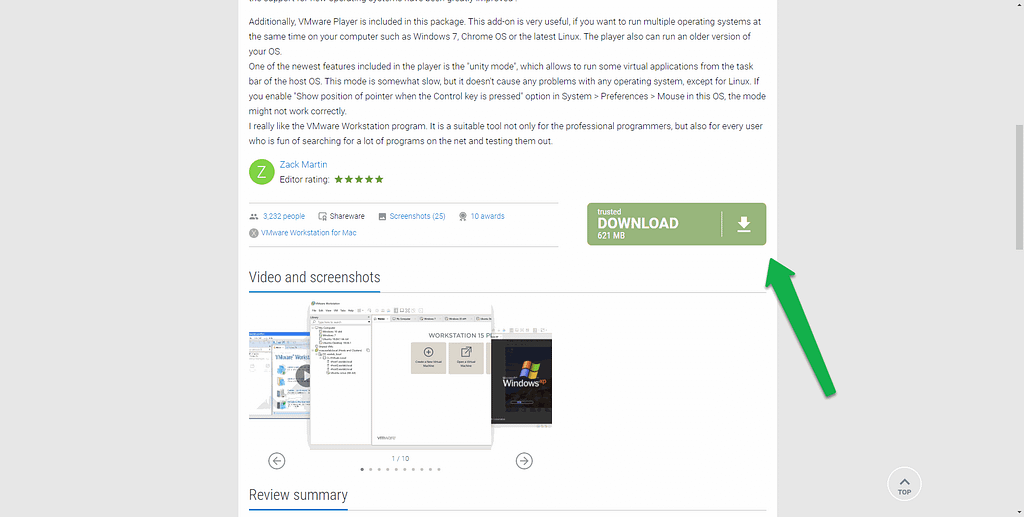 Once you're done downloading VMware Workstation, you'd have to install and set it up before opening it. That's a fairly simple step, many of you should be able to do it. We will not be touching it here since it deviates from the topic.
But once you're done with the installation of VMware Workstation, let's move on to creating the Virtual Machine
Step 3: Create a New VM to Install Kali Linux
At this point, you should be having both, VMware Workstation and ISO Image installed.
Open VMware Workstation
Click on Create a New Virtual Machine to create the VM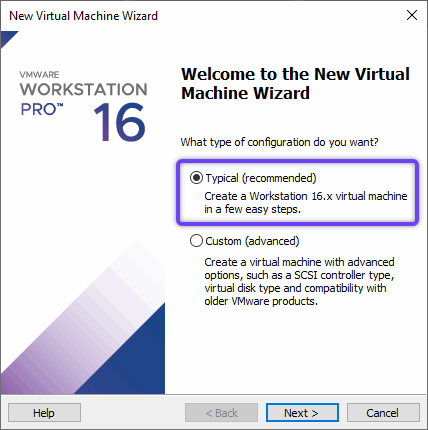 Choose Typical Configuration, and click Next
Select I will install the operating system later, and click Next
Select Linux, and select either Debian 5 or Debian 5 64-bit, it's up to you, I'm gonna go with Debian 5 64-bit
Feel free to name your machine whatever you want. I'm going with the name Kali 64-bit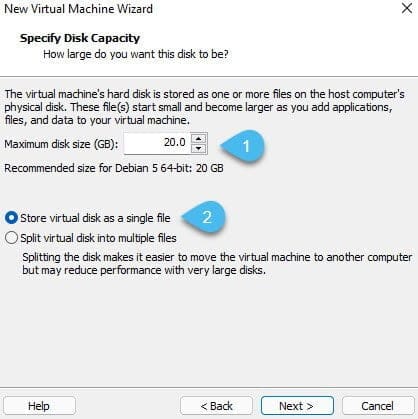 Choose a Maximum disk size, once again it's all upto you. But I suggest you make sure it's at least 20 GB
After that, choose Store virtual disk as a single file, and click Next
And with that, we're done creating our virtual machine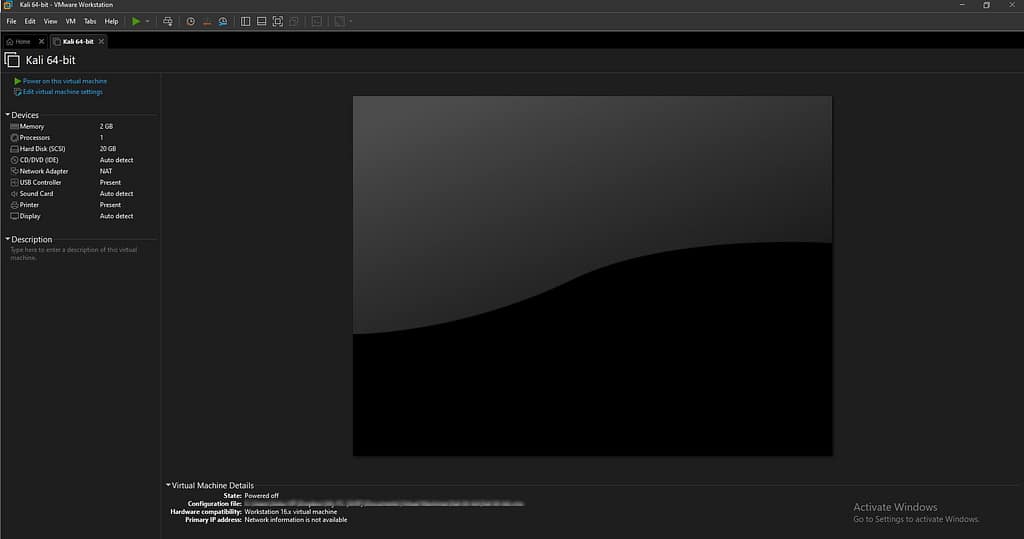 Step 4: Edit VM to add Kali Linux ISO
Now that we have our VM created, we still got to configure the CD/DVD settings to add our ISO file, and that's exactly what we're gonna look at right now
Click on Edit Virtual Machine Settings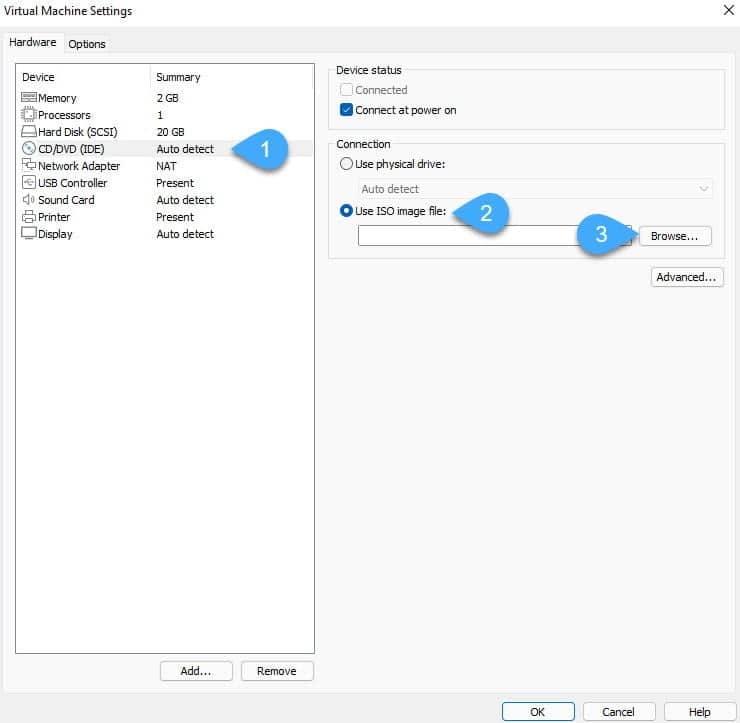 Now go to CD/DVD (IDE), choose Use ISO image file, and click on Browse…
Here's where you navigate and select the Kali Linux 2022.2 ISO Image you just download, and click open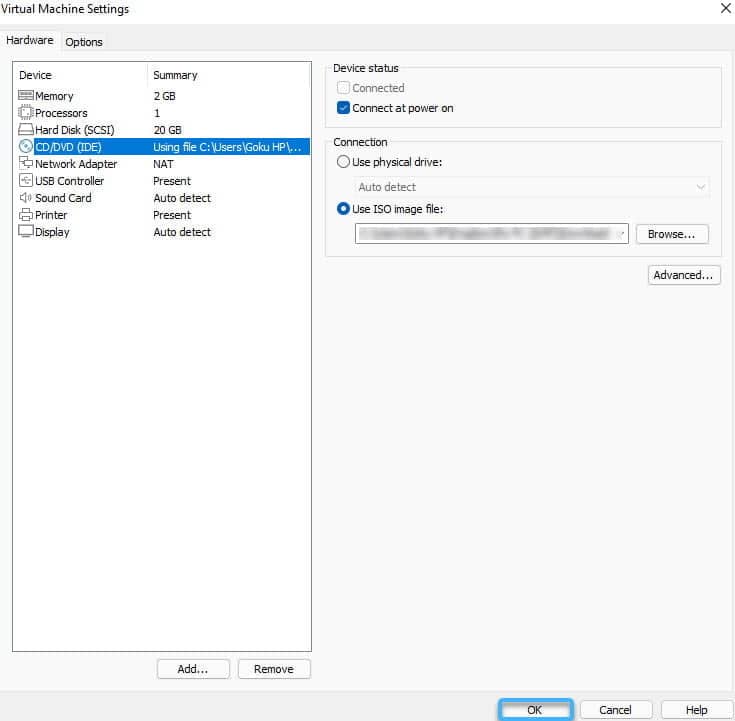 Click OK
And with that, you're just one step away from getting Kali Linux Installed
Step 5: Setting up Kali Linux 2022.2
Now that we added our ISO file, there's one last thing left to do: To setup our machine
We start off by running the VM. Click on Power on this virtual machine
Once you run the VM, you'll see a window like this. Choose Graphical Install and hit Enter
You can use the arrow keys to navigate through the list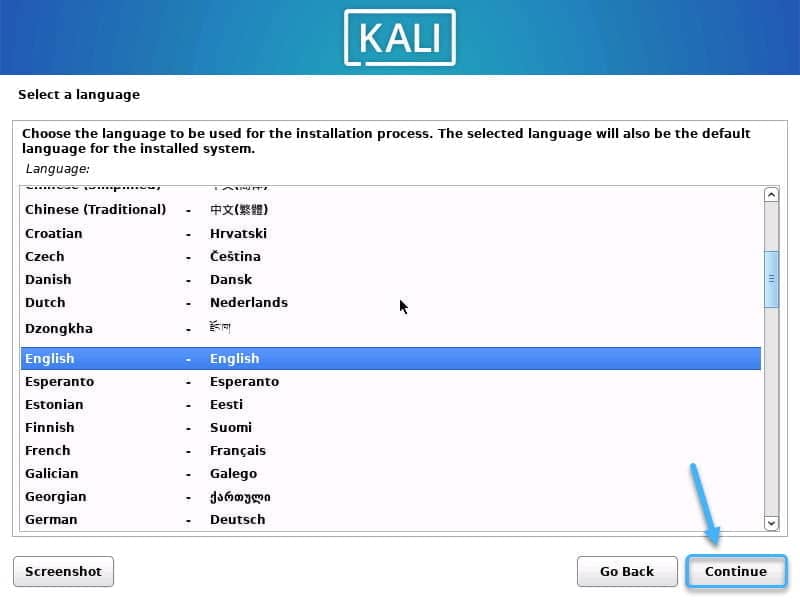 Choose your Language and Continue. Don't worry, you can change this later if you want
Select your Keyboard Configuration and hit Continue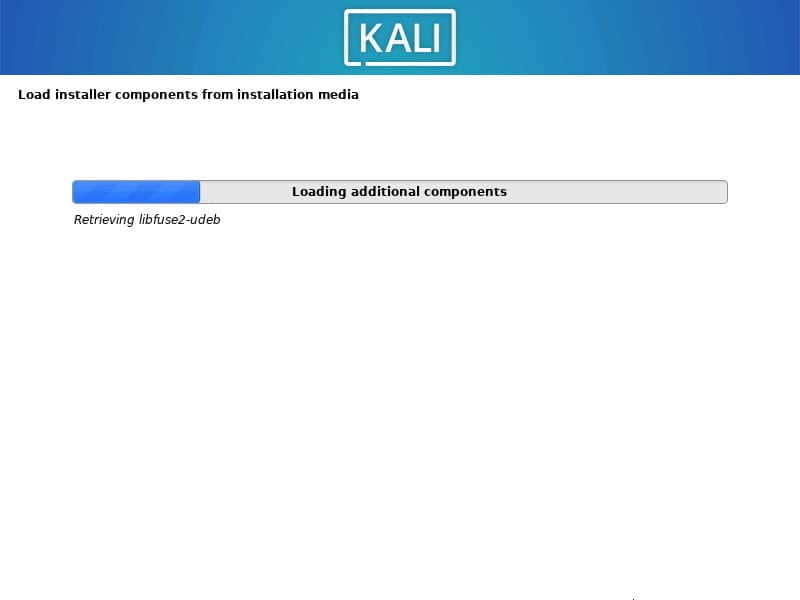 The installation might take some time, you can relax or grab some coffee
Once the installation is done, let's continue
Enter a Hostname for the system and hit continue
I prefer you leave the domain name empty, or enter example.com, and hit continue
On the next screen, enter your username and set up a new password
Once that's done, let's look into partitioning the disk
Choose Guided -use the entire disk and Continue
Now choose the option SCSI3 (0,0,0) (sda) – VMware, Vmware Virtual S and continue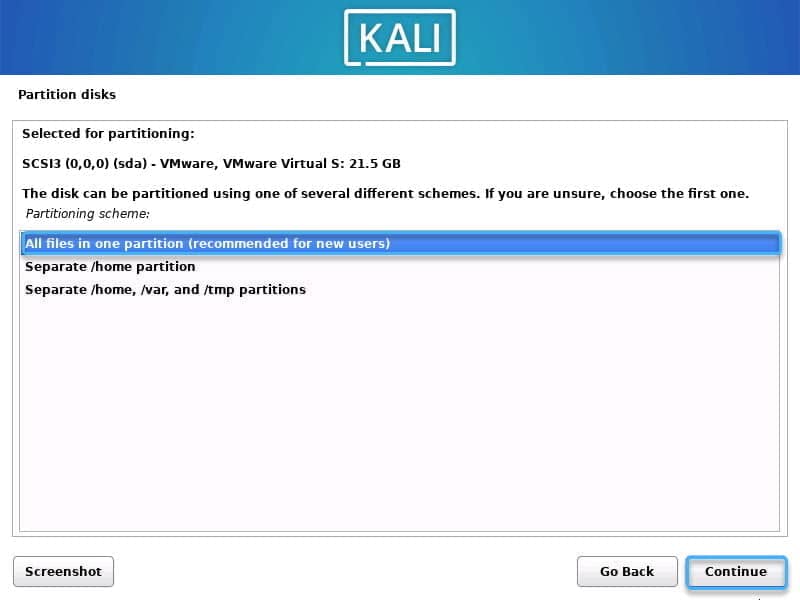 Choose All files in one partition and continue
Once that's done, choose Finish partitioning and write changes to disk and continue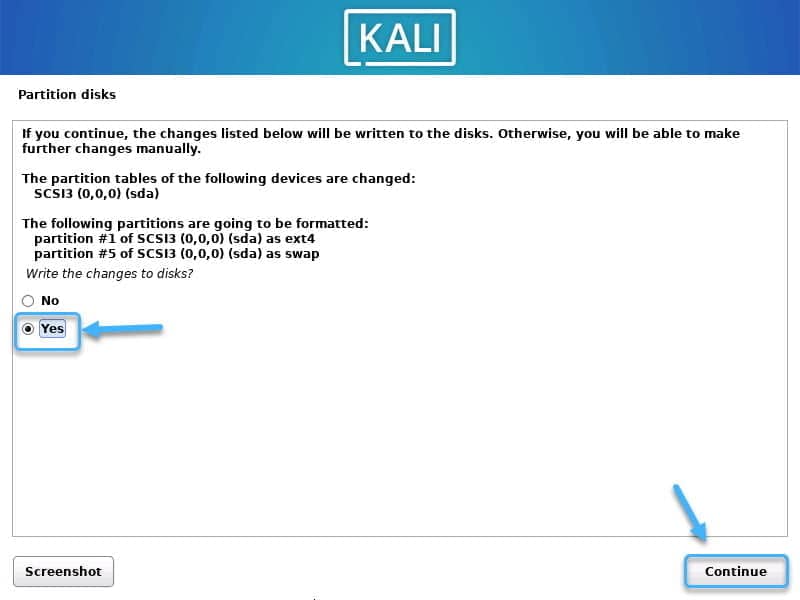 Click on Yes and continue
Once again it takes some time to complete these installations
Now it's time to install some softwares
It's recommended to check all of the above selected options, in case you need any additional software to be installed, you can check those too, and hit continue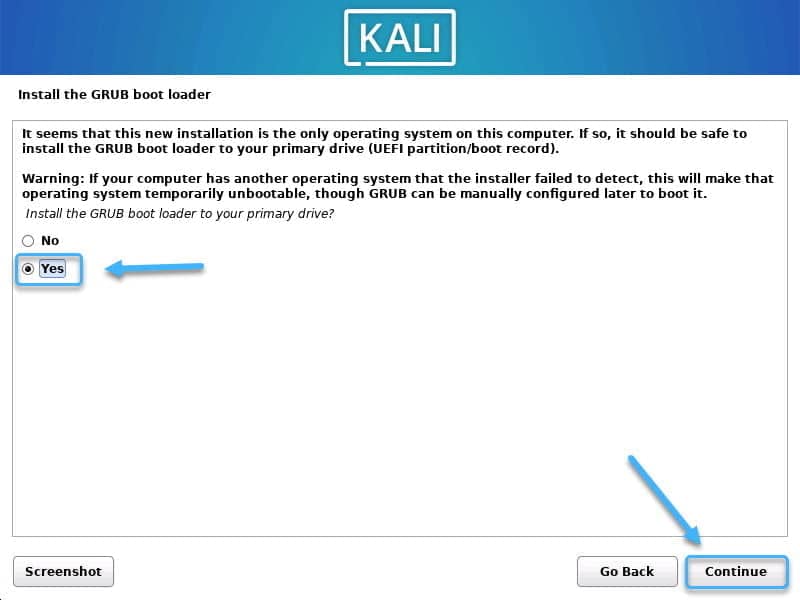 Choose Yes, and Continue
Install the GRUB boot loader by selecting /dev/sda (boot loader device), followed by Continue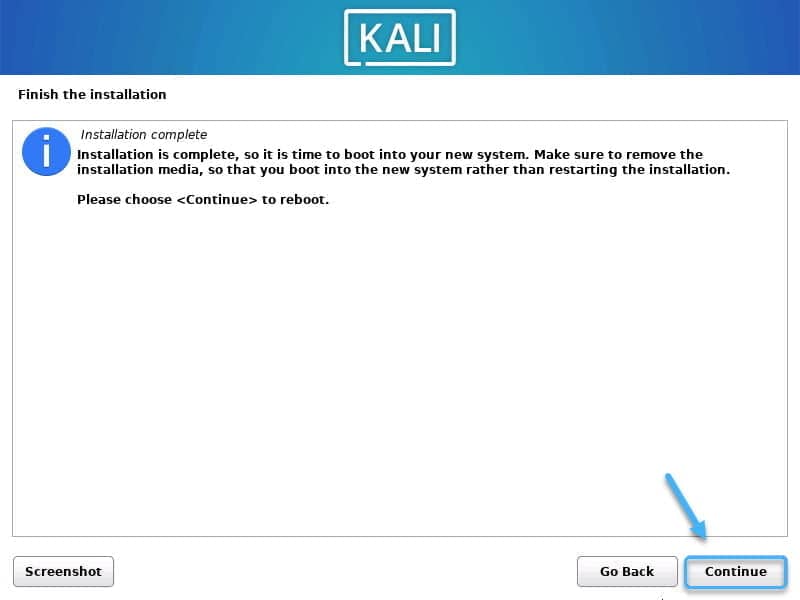 And with that, your system restarts right after you hit Continue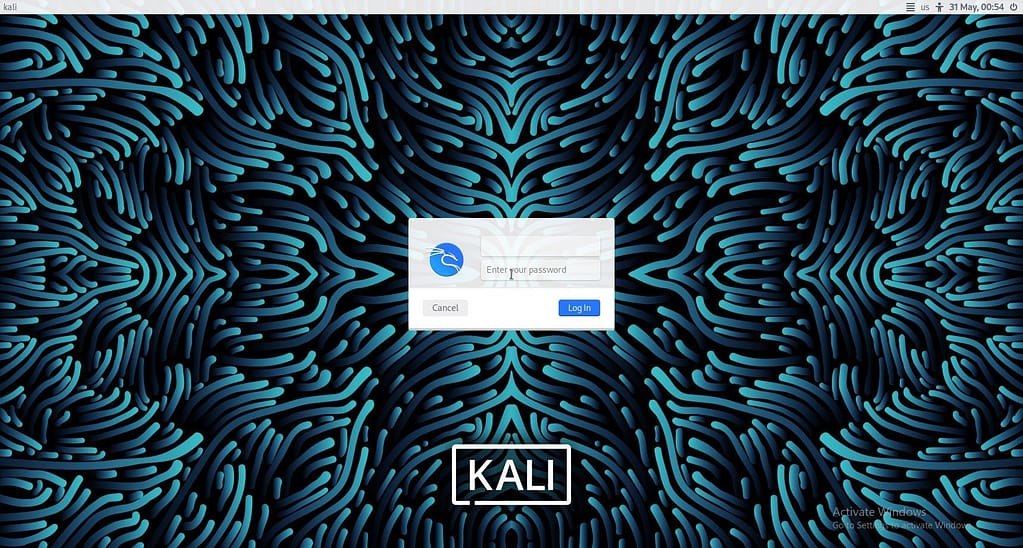 Once your system reboots, this is what you get! You just installed Kali linux 2022.2 on your machine, great!
Bonus: Change Display Resolution for Kali Linux
We just finished installing kali linux 2022.2 on our virtual machine. So I thought i could save you some time by showing you how to change display resolution
For some of you, there might be problem with your display resolution, your screen might be small, or it doesn't look that natural due to all the stretchings and scrollings. At first, I thought this was due to improper installation of VMware tools, but, you can actually solve this by changing the display resolution for your kali Linux
First, run your VM, and login with your credentials
Search for Display, and open it in settings
Find the option Resolution and change it to whatever that suits your screen
Once you're done, click on Apply
Click on Keep this configuration, once you're done choosing the perfect resolution for your screen
And with that, your Linux machine is ready to be used
Next Steps
If you're interested in other linux distributions, we can help you out with that here. We have a separate blog installing Ubuntu Server 22.04 on VMware Workstation, you might find it interesting