On the Eve of getting yourself that 2022 Mac Book Pro with the new M2 Silicon Chip. How about we first give you the run-down on what to expect shall we.
As announced at WWDC22 back in June apple is releasing an all-new M2 chipset which will be available to the MacBook Air and your favorite 13-inch display MacBook Pro.
Disheartening as expected Apple refuses to give us a new design to embody this new power in Apple's next-generation System on a Chip (SoC).
The M2 is Apple's silicon chip that follows the M1 and continued work of progressing from the old use of Intel chips that got dropped from MacBook 2020
Now let's dive into the nerdy details of this Heart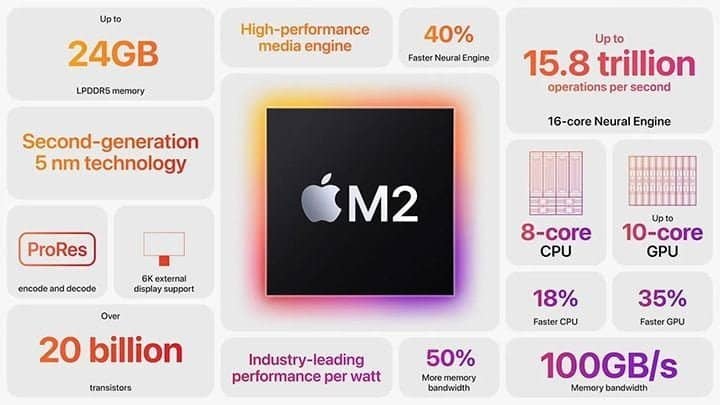 The M2 chip is built upon the new second-generation 5-nanometer technology architecture.
It features a processor with 8 CPU cores which supports 10 GPU cores, made up of 4 performance cores and 4 enhanced efficiency cores. These are meticulously designed to offer the best performance for power-intensive single-threaded tasks and all the 8 cores working together they produce an impressive multi-threaded performance. Ohh did we mention it supports up to 24GB of unified memory?
Well now you're asking What is unified memory and Why do you need it? Well, I'm glad you asked.
Unified memory is about minimizing the redundancy of data copied between different sections of memory used by the CPU, GPU, etc. You see copying is slow and thus it wastes memory capacity
Traditionally part of the RAM is reserved for the GPU. If the Laptop is advertised to have 16GB of RAM, that means 2GB is allocated to the GPU, meaning you're only left with 14GB available for system tasks.
Apple solved this problem with UMA, made memory allocation more fluid, and increased performance.
The unified memory architecture that Apple has included is also a major factor because all of the technologies in the M2 are able to access the same data without having to swap between multiple pools of memory.
However, Apple's memory architecture means that the RAM is not user upgradeable, which isn't too much of a surprise because few Macs have user-accessible RAM. M2 Macs max out at 24GB RAM, but even the base 8GB is enough for everyday tasks.
M2 Performance vs its predecessor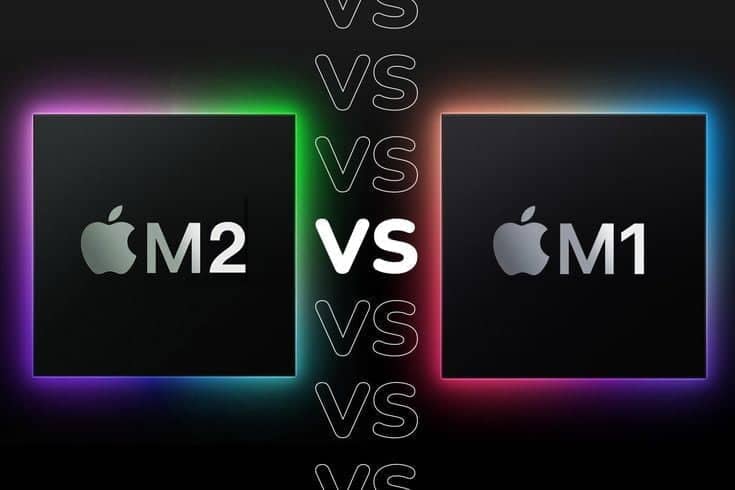 Apple has claimed that the M2 provides an 18% CPU performance boost compared to the M1 processor and a graphics performance boost of 35% however it's still not good enough as the M1 PRO GPU is apparently 200% speedier than the M1
Nevertheless, the M2 has a Neural Engine that can process up to 15.8 trillion operations per second which is over 40% of t M1
A media engine that includes a higher bandwidth video decoder, supporting 8k H.264 Nd HEVC video.
A new image signal processor (ISP) delivers better image noise reduction with a ProRes Video engine that enables playback of multiple streams of both 4k and 8k video.
M2 Security
The M2 Processor has a built-in Secure Enclave that manages Touch ID and storage controller with AES encryption hardware for SSD performance that's faster and more secure.
Prior to that the intel Macs had a built-in T2 chip that controlled the security and other features on the Mac but with the new M-Processors that functionality is built right in hence No need for a secondary chip.
Rosetta 2
This is a feature that allows the Macs 1/2 to run apps designed for intel machines with some limiter performance compromises obviously
This feature was first incorporated back in 2006 to allow PowerPC apps to run on Intel-operated Macs when Apple switched from PowerPC to intel.
macOS
macOS has been designed for Apple silicon, and the combination of macOS Monterey and the powerful new M2 delivers breakthrough performance and productivity for users. Mac computers powered with Apple silicon have access to the largest collection of apps ever for Mac. This includes iPhone and iPad apps that can run on Mac, and universal apps that unlock the full power of M-series chips.
macOS Ventura, coming this fall, will also take full advantage of M2, bringing new features including Stage Manager, and powerful new capabilities with Continuity Camera and Handoff in FaceTime. macOS Ventura also includes big updates to Safari, Mail, Messages, Spotlight, and more.
Apple and Going Green
The M2 chip is mainly designed for energy efficiency. Apple is maintaining a carbon global corporate operation. To which intendeds to have a Zer0 climate impact by 2030 across the entire business. Meaning that every chip they design has to be 100% carbon neutral.
Still, they have found a way to maintain their Silicon chip's battery efficiency despite being faster than most.
The battery in an M2 13-inch MacBook Pro lasts up to 20 hours making it double the battery life of Intel-based models.
As stated by Johny Srouji, Apple's senior vice president of Hardware Technologies.
"With our relentless focus on power-efficient performance, M2 delivers a faster CPU, GPU, and Neural Engine. And along with higher memory bandwidth…"
With this Apple confessed that the M2 is actually slower than the 12-core Core i7-1260P in an MSI Prestige 14 Evo laptop.
This has caused quite a stir, nonetheless, the point is Apple is now able to offer outstanding performance with the M2. At a fraction of the power consumption of an Intel Core i7-1260P CPU. That is Apple's key strength.
Now given that the M2 MacBook Air has been announced to be available on July 15, pre-orders beginning July 8.
The debate in session now is, which one should you buy?
The M2 MacBook Air offers a 1080p FaceTime webcam, quad-speaker system setup, MagSafe 3 connector, and physical function keys.
Apple's latest thin and light laptop comes with a 13.6-inch Liquid Retina display with a 2560×1664 resolution, 500 nits brightness, P3 color gamut coverage, and True Tone.
Apple has claimed that the M2 Macbook Air has an 18% better CPU performance and up to 35% improved GPU performance compared to a similar device with an M1 chip.
On the other hand, the M2 MacBook Pro costs US$100 more but offers just a 720p webcam, stereo speakers, and the controversial Touch Bar. There's no MagSafe 3 connector available either.
The only advantages going for the M2 MacBook Pro compared to the Air at the moment include a two-hour longer battery life and the presence of an active cooling system.
So the answer to your question is we don't know. We actually can not dictate which machine is best for you. It, all depends on the type of work you are doing. Moreso how fat your wallet is.
What we can offer you best at Geekalgo is this. If you are currently using an M1 Max or M1 Ultra, you should wait for upgrading and wait for the M2 Max and M2 Ultra PCs which will probably be released a few months from now.
However, for those who are still on the old MacBooks running on Intel chipsets well this upgrade is definitely for you.
Apple undoubtedly is one of the leading Tech companies. With its new improved chipset, Apple lovers may be celebrating that they have now finally clinched the Number 1 spot. Howbeit its competitors Intel and AMD Ryzen are watching and they will respond soon enough with a product that will push the bar even higher.
Geeklago will be here to tell you all about it.